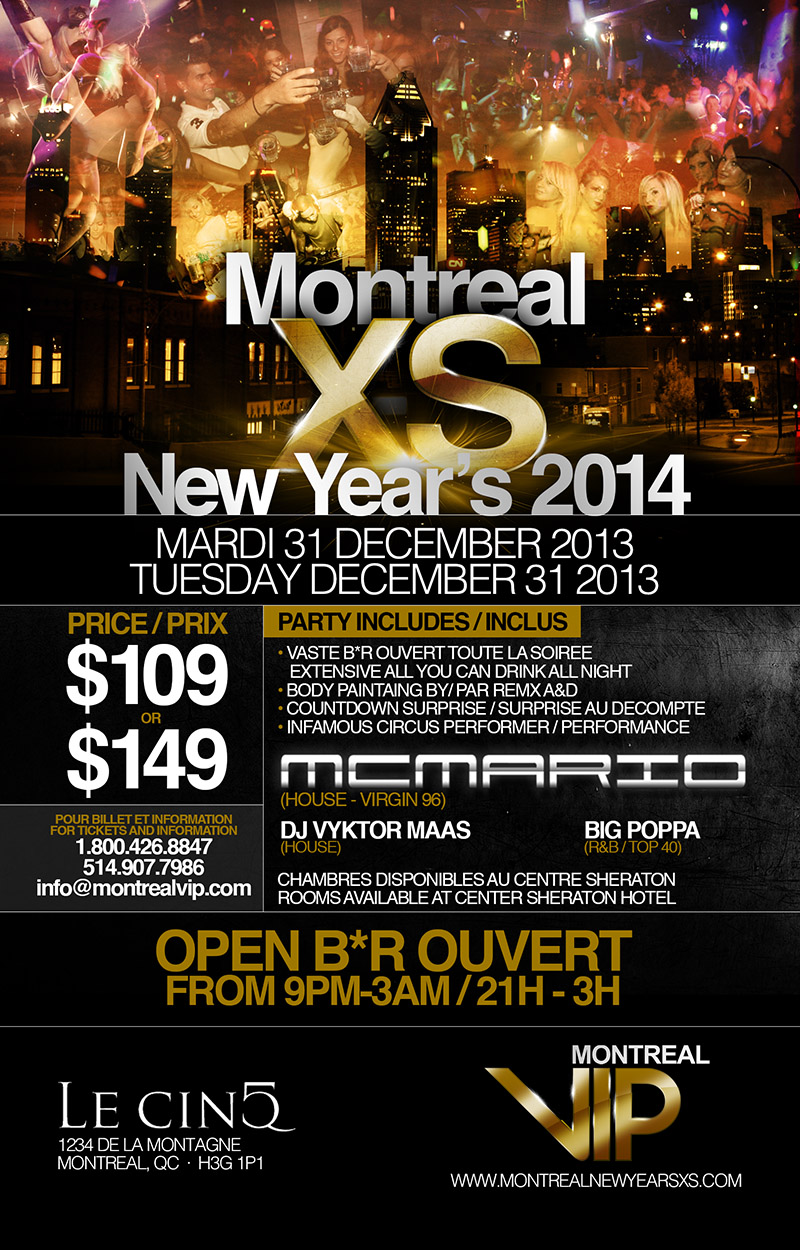 Tuesday, December 31st, 2013
Come And Party With 900 People At Montreal's most Luxurious and Exclusive Venue in the Downtown Montreal – Le Cinq – an ALL-INCLUSIVE New Years Eve Party!!
Celebrate with Class with Montreal New Years XS Party 2014.
7th Year Anniversary featuring:
Hot Body painting for all by REMX AD
Full open bar all night with a Professional staff
Shooter girls
Champagne at midnight
Circus entertainers
Famed DJ's
Age Restriction: This is an 18+ age event.
Doors: 9PM-3AM
WARNING: This is not your typical party: Party with a Selected 800 people.
The most exclusive and wildest event in Montreal.
Here's what your purchase get you:
Regular Open Bar ticket – $109.99 (early bird) – Regular tickets $119.99
Open bar on everything all-night from 9pm-3am
No huge lines for drinks
4 fully stocked open bars
Rum,Vodka,Gin,Whiskey,Tequilla, and much more including Beer and of course CHAMPAGNE!
MC Mario (From Montreal #1 House music radio show on Virgin 96)
Big Poppa (From KISS FM NYC)
DJ Vyktor Maas (House Music Specialist – Suite 701 / Salon Daome / Peopl.)
State of the art sound system and lighting
Countdown Surprise
Infamous Montreal circus performers
Hot Body Painted Models
No line ups outside
* Coat check (3$) is not included
* Tips Are not Included At All Bars
VIP Ticket – Starting at $149.99
This ticket gives you VIP access to the Private Lounge and Patio, along with access to Premium liquor.
Early Bird VIP tickets available at $149.99 – only 150 available.
VIP TABLES (MAIN FLOOR):
2 x VIP Booth at $2500, which includes 1 Magnum of Moet, 2 Magnum of Grey Goose and 8 tickets
1 X VIP Booth (floor) at $2500, which includes 1 Magnum of Moet, 2 Magnum of Grey Goose and 8 tickets
6 x Stage booth (behind the DJ Booth) available at $2250, which includes 1 Magnum of Moet, 2 Magnum of Grey Goose and 6 tickets
PRIVATE LOUNGE TABLES:
5 x VIP Couches on Balcony of the VIP Lounge (Best view – Private access) at $2000, which includes 1 Magnum of Moet, 1 Magnum of Grey Goose and 4 VIP tickets
6 x Seated table in the VIP Lounge at $1500, which includes 1 Magnum of Moet, 1 Magnum of Grey Goose and 4 VIP tickets